Grandstream Wave Mobile Application How to
Grandstream Wave is a free softphone app that aims to bolster remote working and replace cell phone services. Wave allows you to make and receive calls on your business or residential SIP accounts on any Android or iOS device. The app can operate from anywhere in the world with an Internet connection. Wave seeks to rid your phone of costly cell phone bills, relying on VoIP instead of aging cell phone networks.
But Grandstream Wave isn't just trying to remake your cell phone. With up to six SIP accounts, Wave is also taking on the supremacy of the desk phone, too. Just look at the 6-way conferencing, the 24 virtual BLF keys, and the HD voice. All those features are heavy-hitting office phone offerings. Even more, the phone is capable of two-way video calls based on SIP and H.264 video.
Cell phone, business phone, and video phone: Grandstream Wave is trying to do a lot within the framework of a single app. While the features sound cool, we're not giving brownie points simply for housing ambitious capabilities under one roof. For us to recommend it to our customers, the app's parts must work together and offer business-grade value to the average user. With this in mind, we put Grandstream Wave to the test using the Android-based Nexus 6.
First Impressions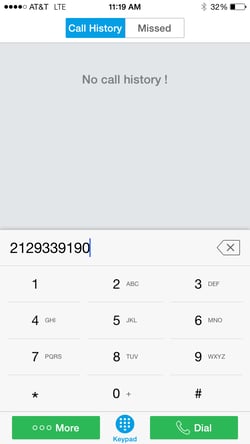 Grandstream Wave offers a simple, intuitive interface that users of all backgrounds will easily acclimate to. The default interface shows a DTMF keypad with side options for Call History, Missed, Contacts, Conferencing, Messages, and Settings. These options are not unlike those offered by default smartphone operating systems. Wave succeeds in creating its own independent phone interface within the smartphone.
Features
With six SIP accounts, Grandstream Wave is well suited for the average office worker. Wave is ideal for remote working and work from home situations. As we can tell from its multitude of business phone features, Wave is meant to be used outside, and possibly inside, your office place. Here's an overview of Grandstream Wave's main features.
Placing a Call
Placing calls with Wave is straightforward. The home screen has an icon centered at the bottom of the screen called "keypad." When you tap it, a DTMF keypad pops up. You can make your entry through the keypad, but there's also a text entry field just above the keypad. You can enter full SIP addresses here, like [email protected], or simply enter an extension like 1234. When you tap the input field, your current smartphone keyboard will pop up, allowing you to type in characters other than digits. After you've entered your desired input, simply hit the green dial button to start the call.
Putting a Call on Hold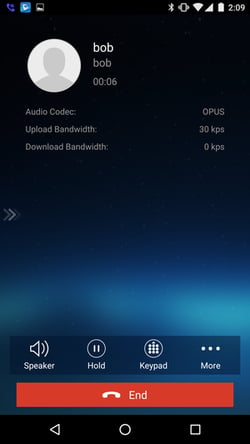 After a call is set up, Wave presents the user with a nice UI that has a menu bar near the bottom above the End button. The menu bar has four icons: Speaker, Hold, Keypad, and More. Activating Hold is as simple as pressing the Hold icon.
Making a Blind Transfer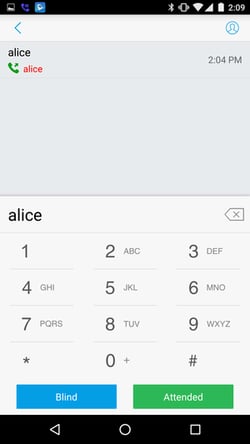 To start a call transfer, select the "More" icon once a call is established, then select the transfer option. You will be presented with a dialer screen that gives you two transfer options, Blind and Attended. If you want to make a blind transfer, simply enter the target via the DTMF keypad, or tap the input field to activate your Android keyboard to enter nondigit characters. Once you've done this, simply hit "Blind."
Making an Attended Transfer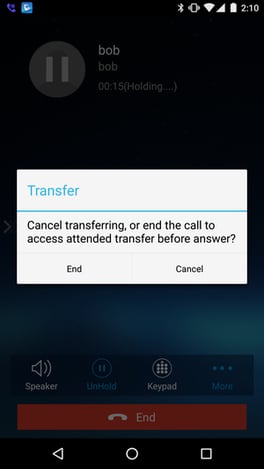 If you'd like to make an attended transfer, hit "Attended" after you have entered your target destination. While the new call is set up, a dialog box will give you the option to end the call or cancel the transfer. Once the new call is established, you'll have the option to complete the transfer or "Split" the call.
Busy Lamp Field (BLF)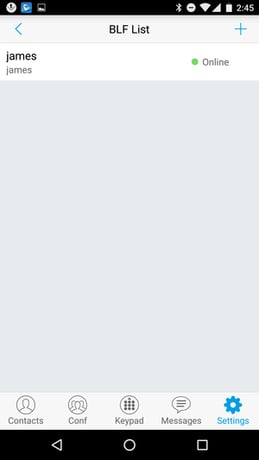 An interesting feature of Grandstream Wave is that it supports Busy Lamp Field (BLF). Wave integrates with your smartphone contacts, so you can add people who have a SIP contact to your BLF subscription list. The BLF list is hidden away in the Settings menu. The list is not a quick swipe away, so it seems like its usefulness is a little hampered by its lack of quick accessibility. But it is there.
Conferencing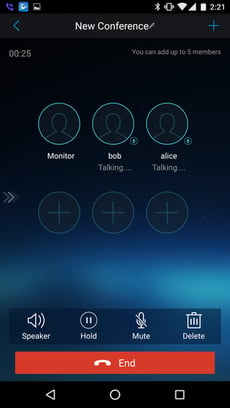 Another feature that makes Wave unique is its built in six-way conferencing. You can start a conference either while on a call by selecting More > Conference, then adding additional members to the conference. Or you can start a conference from the main screen by selecting the conference icon, then adding users to the conference. The interface for adding and managing users within the conference is quite intuitive and well done.
Paging
All Grandstream phones support SIP-based paging. This is not multicast paging on a LAN but a signaling-based paging. When used between devices that support this feature, such as Polycom and Grandstream, you're able to page individual devices on the LAN or across the Internet.
SMS/SIP Messaging
Wave has built-in support for SIP messaging. This allows you to chat between other devices that support SIP-based chat messaging. This also allows Wave to receive SMS messages over VoIP with the provision that your provider supports SIP-based SMS.
LDAP Contact Integration
Wave does have LDAP contact integration. We did not have a LDAP directory server and could not conduct a test. But the feature is there.
Configuration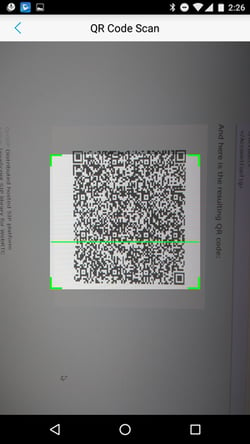 Wave provides configuration options that can greatly simplify the process for end users. It provides several predefined providers when creating an account, including OnSIP. Wave does support provisioning, but that was not tested as part of this review. Another interesting feature of Wave, even if it's simply a novelty, is the ability to provision accounts based on QR codes. The QR codes contain a SIP username and password. This is not secure but an interesting quirk nonetheless.
Voice and Video Quality
Grandstream Wave supports the following codecs: Opus, G.722, PCMU, PCMA, G.726 32 Kbps, iLIBC, GSM, and H.264 video support. Wave allows you to specify your codec preferences individually for each account, along with what codecs you want to use via WiFi or cellular data. This is the highest level of customization we've encountered for any softphone app. It's also nice to see the inclusion of Opus, the current gold standard for high-quality audio.
While the depths of Wave's codec options are impressive, the quality of a call still largely depends on the device and network Wave is interacting with. SIP-to-SIP calls yield the HD voice the company advertises. Calls with other cell phones might suffer a bit in voice quality, but in our experience, our Nexus 6 test model had excellent voice quality on WiFi and LTE. Additionally, the video quality on Grandstream Wave is simply amazing. So the voice/video quality from our experience was exceptional.
Quirks and Bugs
Cross Domain Calling
Grandstream Wave lacks cross domain support for everything except basic calling. You can have an account such as [email protected], and you can call [email protected], but don't expect to have transfers or other more complicated call handling work in this interaction. That's because biloxi.com and acme.com are two separate domains. On top of this, cross domain signaling doesn't work at all for things like SIP-based messaging. Grandstream Wave can't send a message from [email protected] to [email protected]
Wave assumes you're always contacting a person in the same domain. To this end, it will attempt to append the domain of the active account to any SIP account. We brought this issue to them some time ago, and they put a bandage on the dialer. For now, the lack of cross domain calling is a very serious issue that is hampering the basic utility of Grandstream Wave.
Multiple Account Complications
The second quirk is with the BLF list, and it's somewhat related to the first issue. You can't specify an account with which to bind a BLF subscription. That is to say, if you have multiple accounts, Wave will try to use the default account to subscribe for BLF. If you change the default account, Wave will try to send its SUBSCRIBE requests to the new default account.
In general, these two bugs are not issues for most people. A majority of users don't need cross domain calling and don't have multiple SIP accounts. So if you have a single account and you're always calling others on the same domain, neither bug will cause any issues.